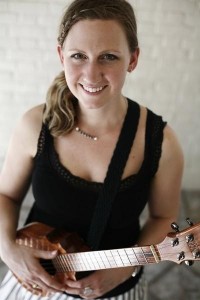 I truly enjoy listening to music that means something.  I enjoy music that offers not only talent and experience in the instrumentals, but also truth and passion in the lyrics.  The lady that I am sitting with today brings everything that I spoke about above and more to the stage with an incredible sense for the word talent.  She also has a very frequently updated Twitter page which helps social media guys like me relate a little more than the next guy.  After one song I was hooked and I encourage you to become the same.  I am happy to introduce to you Victoria Vox.
How long have you been performing?
I've been performing "unofficially" since I was about 4…I liked to tap dance and sing to musicals, like Annie.  When I was 10 I started writing my own music and making music videos with the VHS camcorder.  However, it's only been 6 years that I can say I'm a full time performing, doing what it is that I do.
When did you first realize that you wanted to make a run at this thing they call music?
I was probably about 6.
Do you have a job outside of your music?
Nope!  well…let me take that back.  In addition to making music and performing, I also release and promote my own CDs and book my own shows!
Do you write all of your own songs?
Mostly.  I may do a couple of covers (occasionally) at my shows.  I choose from a repertoire of songs from the 20's, 80's, and some songs written by friends.
Where do you get inspiration for a new song?
I get inspiration from anywhere and everywhere.  Most times, I'll just start playing a chord progression or groove…and it just goes from there.
Who are some of your biggest influences?
Well, early on, I'd have to say Cyndi Lauper, then Madonna and Michael Jackson, then Liz Phair and Jill Sobule, then Ani DiFranco and Peter Gabriel.
Tell me about your homemade guitar case.
I started it because my guitar case said BERKLEE on it.  I didn't like that it said that, even though I graduated from there.  So I covered the bottom half with bits of fabric that meant something to me.  I finally finished it 3 years later on a day off from work (back in 2001).  It's a cool case which has become a like a patchwork quilt.
Do you have any thoughts of trying to market those?
Not at the moment… and probably not ever.  I like to do crafty things, but I wouldn't have the patience to make more than one.
What was it like being featured in Relix Magazine?
It was really great.  A writer from St. Louis submit me as an Artist on the Verge.  I think I'm still on the verge.  Time will tell if it will ever tip.
Staying single while you are out on the road?
I can't give away all my secrets!
What is your favorite venue to play?
I really don't have one.  It's the people that make or break the venue…although, it's a bonus when the sound is good!
What is the largest number of people you have played for?
A few thousand.
The smallest?
Two cats!
PC or Mac?
Mac.
If you could be any cartoon character whom would you choose?
Betty Boop.
Let's say that someone offers you a $250,000 record deal but it is someone else's lyrics and is a rap album.  Do you do it?
Probably not…but…if I liked the music I might…as I actually do like rap music.
Tell me a little bit about OBUS Music.
It's my company that runs everything Victoria Vox.
I like the design of your MySpace page.  Who is responsible for that?
Thanks.  It's the same company that did my website. The company is Stump'd Design.
Where can I get a copy of your new album?
It's available at my website but also on iTunes.
You tell stories in your lyrics.  Tell me a story.
One time at band camp…just kidding!
Any tattoos?
I have one.  I got it when I was 17.  It's a ladybug. I did try to get another tattoo on my right forearm, but 3 hours after I made the appointment, I rear ended someone in Minneapolis  (at 10 mph…when I looked down ever so briefly to turn the radio on).  So, the money I had put aside for the tattoo now had to pay for my deductible to repair my car.  Funny enough, the tattoo was going to say (in French) "everything happens for a reason" (Tout a un raison d'arriver).  All I can think is that maybe I wasn't supposed to get the tattoo… although…I am starting to think about it again. Well, there's your story!
What is the most embarrassing thing that has happened to you while on stage?
I don't embarrass easily…but a funny/embarrassing moment was when I was in college performing at the Berklee Performance Center for Songwriter's Night.  I couldn't wear underwear with the dress I chose to wear (cuz you'd see the lines) and when my distortion pedal wasn't working I had to ask the stage tech to bend over for me, so I wouldn't flash everyone.
Ever forget your own lyrics?
Sure…not often…but it does happen, usually when I start thinking about what I'm doing.
If you could tour with anyone in the market today whom would it be?
Martin Sexton or Jason Mraz.
Where do you see yourself in five years?
Let me look into my crystal ball…Oh wait, the world is going to blow up in 2012…(I'm waiting for the movie to come out!)
What do you want to be remembered for when this is all said and done?
I'd like to be remembered as a great singer and songwriter…but also as a kind person.
I always let the artist get the last word.  Go.
Just my style!