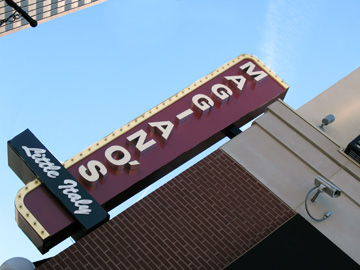 At about six o'clock on Friday night I had no plans for dinner.  I was sitting at home replying to a handful of emails when I got a text message from a good buddy of mine, Ian Myers, asking if I wanted to join him for dinner.  He said that he had some coupons that were given to him at work for dinner at Maggiano's.  I had never been to Maggiano's before and I figured I would give it a shot.  I am not even a huge fan of Italian food but it would be nice to catch up.  I invited another friend of mine, James Northard, and we made reservations for 8:45.
When we first arrived I had to drive around the parking lot three times to find a space.  I would later learn that they offer a valet service but was not aware of it at the time.  So we parked, headed inside, and were seated almost immediately.  Our table was in the back corner and it was pretty fitting for the atmosphere surrounding us.  I felt like Tony Soprano sitting down for a "family meeting".
As we were looking over the menu, our server came to the table and introduced himself.  His name was Rusty and would prove to be a top-notch server before the night was over.  He never left a glass short of full and was accurate in his return table visits as we were eating.  He even went through and explained the menu, the processes in the kitchen, and some wines that might match our selection.
While looking over the menu we soon realized that the coupons that Ian had were actually not coupons at all.  There was a specials menu that we were handed when we sat down and it had the same menu items as the coupon.  This is why we came and had decided before even seeing the menu we would get the special.  It was actually a really good special as you were served a half order of an entrée for dinner and by the time you were ready to leave you were handed a second choice half order to go.  The meal came in just under $13 and seemed unbeatable.  That was of course until Rusty came back to the table to explain a little bit more about the menu.
Rusty had made mention to the way meals are prepared at Maggiano's.  Everything in the kitchen is made from scratch.  He apologized in advance for the meals taking a few extra minutes to prepare but promised it would be worth it.  He then explained what their specialty at Maggiano's is.  They have what is called Family Style dining.  It is made for parties of four or more but because the Indianapolis location sells more of these than any other location they are allowed to serve them to parties of three.  Good thing, because this is a special that you cannot afford to pass up.
There are three options when it comes to their family dining menu selection.  The first is their Light, the second is their Classic, and the third is the Chef's Choice. With each one of these you are given an incredible amount of food.  With the Light option you get two appetizers, two salads, two pastas, and Vera's Lemon Cookies.  With the Classic you get two appetizers, two salads, two pastas, two entrees, and two desserts.  The Chef's Choice is the same as the classic but includes higher quality menu items and a wider selection of seafood.  With each one of these you are allowed unlimited refills throughout the evening.
Each person in the party is given a share plate and all of the items are passed around for everyone to enjoy.  After each course they are removed and you are given a fresh plate.  We were promised that it was a large amount of food and suggested we not only take our time but to pace ourselves with the amount of food from each course we take part in.  Once the meal is over, whatever food is left on the table is wrapped up and given to you to take home for the next day.  It was a five-course meal, with unlimited refills, and an unbeatable selection of menu items.
We chose to go with the Classic, as two of three at the table were not interested in seafood.  The first part of our meal was the salads.  They came at the same time as the appetizers.  After much deliberation we decided to go with the spinach salad and the chopped salad.  The spinach salad was served with leaf spinach tossed with roasted red peppers, sweet roasted onions, Gorgonzola cheese, apple cider vinaigrette and topped with smoked bacon and toasted pine nuts.  The chopped salad, although not as tasty as the spinach salad, was served with chopped iceberg lettuce, diced tomatoes, crumbled bleu cheese, green onion, avocado, crispy Prosciutto, and tossed in their signature House Dressing.  The dressing, I will admit, was quite delicious, but the salad, regardless of all of the ingredients, was lacking in flavor.  The avocado did have a lot of presence in the salad and matched the flavors in the dressing quite nice but the spinach salad reigns over the chopped.
As I mentioned, we were also served our appetizers with the salads.  We chose the calamari fritte and the stuffed mushrooms.  The calamari was very crispy as it is coated in egg whites and seasoned flour and then deep-fried. It is served with Maggiano's specialty marinara sauce.  The sauce was thin, but that ended up being a positive thing as I wanted to taste the calamari more than the marinara.  But the calamari stood no ground on the stuffed mushrooms.  I am a huge fan of mushrooms regardless of whether they are stuffed or not, but these put a new meaning to the word delicious.  These were jumbo mushroom caps stuffed with spinach and topped with seasoned breadcrumbs and house cheese. They were served in a white wine chicken broth. They truly did melt in your mouth.  I had half a dozen and the only reason we did not order more was I was afraid I would get full on mushrooms.
By the time we had finished the appetizers and salads, we were joking that we were already full.  But not too long after the plates were removed from the first two courses, the pastas and entrée portion of the meal arrived.  The three, yes three, servers that had to deliver all of this food laughed when they arrived at the table as we had no room for the plates.  We managed to make room and dug right into our meals.  First came the pastas.
We chose two pastas based on James's recommendation of him liking chicken.  We started with the Rigatoni "D".  This dish is rigatoni pasta, herb roasted boneless chicken, mushrooms, and onions, tossed in a light Marsala cream sauce.  We would end up getting two bowls of this because you take one bite and you are addicted to that cream sauce.  Match that with the tender noodles and fresh wild mushrooms and you have a near perfect dish.  Next came the Mom's Lasagna.  Never having been a big fan of lasagna I figured it was worth giving it a shot.  Mom's lasagna (note that there is actually no mom in the kitchen serving this dish) comes with whipped ricotta cheese layered with pasta sheets, crumbled meatballs, Italian sausage and marinara sauce. It is then topped with provolone cheese and your choice of their meat or marinara sauce. We chose the meat sauce based on the recommendation of Rusty, our faithful and attentive server.
But this was just the pasta portion.  Now comes the entrées.  This is where I got the chance to make some decisions.  I am not a decision maker when it comes to food but there were to items on this list that I just had to sample.  We started with the lemon and herb crusted salmon.  This dish was a generous filet of salmon sautéed with fresh herbs and spinach.  It was served in a light lemon butter and clam sauce and had an excellent plate presentation.  I however ended up not enjoying the salmon what so ever.  It was dry from the start and even though the sauce and spinach covered the bottom of the plate it still had a standard salmon flavor.  I actually made note to the server that it was dry and he asked if he could bring us something else to replace it off of the list of entrees.  I said no, that I did not want to take advantage of the kitchen in that way.  He stated that it is the Maggiano's guarantee that if you do not like something they will replace it at no extra charge.
Next came the pork medallions.  I had asked when we ordered these if I had a choice on the temperature of the pork.  You will notice that if you ask for a different temperature on pork at most restaurants they will say no, that it has to be served well done.  However, if you ask fine dining establishments like Peterson's or Sullivan's Steakhouse, they will prepare the pork to your desire.  This is for a variety of reasons including the quality of the pork and the talent in the kitchen.  Maggiano's said they would go as low as medium rare.
These medallions were pan seared and came in a brandied green peppercorn.  They are also served with crispy red potatoes and green beans.  I could have done without the green beans, as the red potatoes were so good I wanted more of those.  They had a fire-grilled taste to them and a crunchy outer shell but did not lose their consistency in the middle.  I do not know how the chef prepares these but he hit a home run with this side dish. We ordered two plates of these as well!
With all of this food being served I asked Rusty how the company makes money.  He said that part of it is their portion sizes.  He stated that recently they began serving more in the first go round in hopes that people would not order more food, therefore cutting down on food cost.  It makes perfect sense as had we all not been as hungry as we were, we might not have ordered another plate of the medallions or the rigatoni "D". To me, the amount of food for the price that we paid was well worth it across the board.
We were so full at this point we almost didn't even want the dessert.  However, as "Grandpa" always said there is always room left in your belly for dessert.  So out came the New York Style Cheesecake and the Crème Brulee.   I first dug into the crème brulee.  It was an extremely rich and creamy vanilla custard with a hint of citrus, caramelized sugar crust, and topped with fresh strawberries.  It was your typical crème brulee but with everything else that had happened during the evening it made it just that much better.
Right across the parking lot of Maggiano's sits the Cheesecake Factory.  As you can imagine the Cheesecake Factory knows how to make a pretty awesome slice of cheesecake.  Well, that was until I had the cheesecake at Maggiano's.  First off it was about six inches tall and was served with fresh cut strawberries and whipped cream.  But the second part that blew me out of my chair was the flavors in the cheesecake itself.  Again, the cheesecake is made like everything else in the kitchen, from scratch, and you can tell.  It had a very smooth, easy to cut, unfrozen consistency to it, and had a flavor that could stand with the best cheesecake around.  It was a perfect ending to an unexpected night of fine dining.
I had never been to Maggiano's before that night.  If you could not tell based on how I described the food, I will be back.  I am actually already trying to find an excuse to go again right now.  The food is incredible. The service was top notch.  The atmosphere is perfect.  This is a restaurant that should not have an empty table any night of the week.  So to the staff at Maggiano's, including our server, Rusty, and the many servers and managers and even the executive chef that came to visit our table throughout the evening I thank you for offering such an unbeatable experience.  This is truly a slice of Italy in your own backyard.