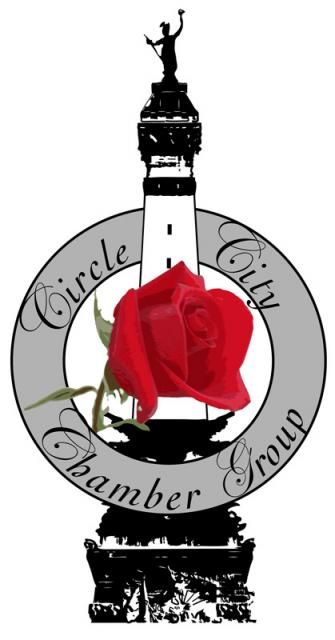 To go along with the experience that I had at Peterson's Restaurant not too long ago, the same hospitality was shown to the Circle City Chamber Group.  The CCCG is the non-profit that I work with here in Indianapolis.  They are an organization that shows support and brings the best of visual, culinary and musical artists to the city.  They work with other local establishments like the Mass Ave Wine Shoppe and the Canterbury Hotel, so adding Peterson's to that list was an honor and one that everyone in the CCCG was excited about.
The evening was setup in advance and ten VIPs were invited for an evening of food and fine wines.  It was Andrew Lyon and myself from the Circle City Chamber Group as well as eight others.  Included in that list were guys like Johnny Teater, Chris Theisen, Dick Davis, and Tyler Poling.  These guys all came from Twitter, but there were a few others that were guests of the tweeps.  We all gathered on the far side of the bar at a private table for ten and began our evening with a glass of Riesling.  Nothing starts a night off better than a glass of vino.
The meal that was being served was listed on the table, as were the wines.  Peterson's took great care in planning this evening out for us.  As with my visit earlier that week, they had paired the wines perfectly with the food choices.  Chef Jeff had made smaller versions of some of their specialty items and although it was not an exorbitant amount of food it matched nicely with the wine and conversation that traveled around the table.
We started the evening with the pan-seared scallops that were oh so good on Monday.  A smaller serving than we had on Monday, of course, but just as delicious.  These scallops are day caught and delivered to Peterson's mere hours after they have been caught.  They come from the islands of Hawaii and are one of Peterson's best sellers.
The second dish was their Portabella Fries.  Yes, they are shaped like fries but do not taste like fries.  These things are delicious.  They are big chunks of their fresh Portabella mushrooms served lightly breaded and deep fried with a creamy horseradish sauce.  This dish was served with a nice glass of Cantina La Vis Pinot Noir. This wine was a 2007 and was incredible paired with the fries.  I am a huge fan of Pinot Noir in the first place, but you put a young and light Pinot in front of me and it begs something to talk about.
Next came the jumbo lump crab cakes.  These were not jumbo, as they were only a sampling, but quite possibly were the single best crab cakes that I have ever eaten.  They were served with stone ground mustard and a red pepper aioli.  I was almost tempted to order some more but I was then introduced to yet another glass of wine.
The final tasting of the evening was their Kurobuta Pork Tenderloin.  Where do I begin to describe how incredible this menu item is?  It is impossible.  It is served Kobe style, and if you have never had a burger or a tenderloin that is served this way put this blog down and go to the closest fine dining establishment that offers this as an option.  I have only seen this offered twice, at Peterson's and at Ted's Montana Grill.  These tenderloins are also served on Indiana corn cake (which was delightful and full of flavor) and a roasted tomato and goat cheese.  To top the evening off, we were greeted with a glass of Prevail Cabaret Syrah.  The wine was a 2004, and while I am a big fan of older wines, this was not the best wine I was served that evening. However, the taste in the Indiana corn cake made it all better.
Just when I thought the night couldn't get any better, and as we were winding down for the evening, Rich Arthur, manager at Peterson's Restaurant, brings out one last item from the kitchen.  He had hand rolled chocolate covered mint candies.  These were incredible and basically flew off the plate when folks realized how great these were.
The night was yet another reason why Peterson's is one of the nicest and more prepared restaurants in Indianapolis.  They were, from the time I walked in the door on Monday, until the last glass of wine was poured on Wednesday, completely welcoming to each and every one of us.  As I say goodbye to Peterson's for a week of incredible food, delicious wines, and priceless conversation I want to thank everyone, especially Rich Arthur, for their hard work.  Peterson's puts a new meaning to the words fine dining.