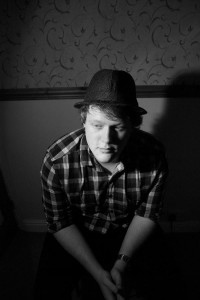 The man that I am sitting with today deserves our attention. He is not asking for it, but after one listen to his incredible voice and his honest lyrics, you will agree with my every word. He sings about love, loss, and death (not in those words per say) and knows how to tie it all together with talented guitar chords. Coming from across the pond you would never know it based on his sound. He does not have the false love feeling that guys like Coldplay bring nor the computer generated sounds of bands like Muse, but he matches the brand of the London crowd. If you get the chance to listen to his sound take the time to pay attention to the way his voice climbs to new highs with each track. I would even venture to say his live show is as good as his work online. Sit back and take the time to get to know Thomas Rumbold.
Is that your real name?
Truly is!
How long have you been playing?
Playing music, since I was 16 – playing solo since i was about 19. So I've been doing the whole songwriter thing just gone two years now.
What is your first memory of the guitar?
I owned one when I was about 4 years old, but that disappeared at some point. But one of my roommates in high school had a guitar he always used to mess around with and thats when I decided to start getting involved in learning it for fun.
Do you write all of your own songs?
Yeah – I write everything. Music, lyrics, arrangements, but I steal inspiration from some of the greatest songwriters in the world.
Where do you get inspiration for a new track?
Inspiration comes in different ways. Like sometimes I'll write lyrics for a whole new song in one go – and then fit that to music. Other times I'll just be laying around jamming with my guitar and fitting vocal harmonies over some chords and the song will shape itself that way. So I don't have a real set way of putting songs together, the creative process itself is pretty freeform for me!
Where are you originally from?
I'm an English kid but I've spent most of my life abroad because my dad is in the Forces. So I'm a bit of a wanderer in that respect.
Do you have a job outside of music?
At the moment I'm actually studying degree level Computer Science at University outside of music, so that takes up a lot of my time on a day-to-day basis.
Do you have a favorite venue to play?
For me I don't think the venue is hugely important – a house show with 25 people and a totally great atmosphere can often be just as fun as playing a bigger venue to a couple hundred! I do like to play in Germany though, people always seem really glad that you're there to share music and hang with them.
Do you make it over to the states very often?
I've never actually been to the United States once. Although it's definitely a place I would like to check out.
What are your thoughts on MySpace?
MySpace revolutionalized the modern music promotional process I think. It's a really great tool to network with, to find shows, to meet other artists. So in that respect it's hugely positive for music. It also puts musicians in direct contact with the people who are supporting their music and that personalises it a bit – that's something I always liked.
Are you on Twitter?
I am.
How did you react to the news of the death of Michael Jackson?
Didn't really believe it at first. MJ was a global icon. Regardless of what went on in his personal life he was the world's greatest entertainer in his glory days so it's sad to lose the kind of talent that people respected worldwide.
Who are some of your influences?
My musical influences are people like Jeff Buckley, Damien Rice, William Fitzsimmons, Dallas Green, The Gaslight Anthem, Dustin Kensrue. I also have a major soft spot for really heavy hardcore bands too. I think my favourite band of all time is probably Thrice.
What is the biggest crowd that you have ever played for?
I got into a regional battle of the bands at one point that was like 400 people, I think.  The lights were so bright I could barely see past the first row though.
The smallest?
Man! I've totally played shows where you're just playing to the other bands or 3 people who are at the bar who don't care whether you're there or not. So that's tough but you just have to make the best of the situation. I still play the same whether I'm playing to 3 people or to 300.
Where can I get some of your merchandise?
It's actually all sold out at the moment, because I'm in the process of printing stuff for my first full-length record. The first stuff I printed sold out super quickly, surprisingly enough. But there's gonna be a whole bunch of new stuff at available shortly.
What are you drinking on stage?
I stick to water on stage and a decent single malt scotch after the show!
You are a storyteller in your lyrics.  Tell me a story.
I once missed the last train and skated home for 12 miles at midnight, in the worst rainstorm imaginable, with my best friend. We were always kings upon the main.
Are you PC or Mac?
Definitely a PC. Macs look beautiful but I have a hard time with their operating systems and get frustrated at compatibility issues and no right click.
If you could live anywhere in the world where would you go?
I've always wanted to just live a really simple life somewhere in the middle of nowhere, actually. Somewhere in Germany or maybe Switzerland. I dig the snow and the open space. Hamburg is probably my favourite city ever, though.
What was it like releasing your debut EP?
Well that was pretty cool. I was stoked to finally have something that I could give to people and be like, "Hey this is what i do, this is what my dream is". Plus Dave from Coma Graphics did a beautiful job on the artwork so i was excited to be a part of such a creative process.
Tell me a little bit about the process you went through with the recording.
I spent most of my teenage years in rock bands and knew of a really cool producer close to where I lived in Germany at the time. So once I'd written the songs, I called him up and we got to work on my first acoustic sessions at his studio over a space of 3 days.  He actually really helped me learn that a good song is more important than a good 'part' so he gave the EP an extra dimension.
Let's get some pizza.  What toppings?
Something with a ton of vegetables. I'm a vegetarian.
Describe the perfect vacation.
A few winter days in a gorgeous European city would be great. I'm stoked on other cultures and languages. And boring stuff like museums and old buildings that I'm pretty sure makes me the oldest 22-year-old in existence.
Is that your actual signature on your MySpace or is that a font?
That's a font. I'll work on a real one at some point.
Tell me about Bilderfabrik Photography.
Bilderfabrik is a small photography outfit based in Alfeld, Germany and it's run by my friend Amelie who is probably one of the sweetest girls I've ever met. She's genuinely talented and the promo photos on my MySpace were taken by her during a cold April afternoon just outside of her hometown.
Where do you see yourself in five years?
Well I will still be playing music, regardless of whether or not I'm still attempting to make a career out of it. But the dream is to be able to pay the bills with my music, meet a whole ton of creative people, and see as many new places as possible.
What do you want to be remembered for when this is all said and done?
That my manners were good, my wit was keen and my music was genuine.
I always let the artist get the last word.  Go.
I ain't king of nothin'!