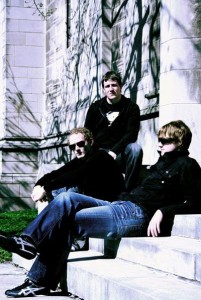 The band that I am hanging out with today is one that you need to listen to. Whether you buy their album, see them perform live, or just listen to their tunes on MySpace, these boys know how to not only get you out of your seat but how to get you swaying in your chair. These guys also spend a lot of time traveling the globe trying to play for as many sets of ears that they can. They have a good direction as to where they want to go and they are doing it the "right way" if you will. Their lyrics are what I would call epic when compared to other local Indianapolis based acts, and they follow those up with piano and a stellar set of drums to match. I have even seen these boys perform with a string section. Sit with me today as we take some time to get to know the boys in Wolfy.
Where did you come up with the name Wolfy?
It is a nickname of the lead singer.  He has had since middle school.
How long have you guys been playing?
About six years.
Where did you all meet?
The lead singer and Bass player (Josh) met at University and decided to form the group Wolfy.  Matt, the drummer, auditioned several years later. The rest is history.
Tell me about your new album.
Its very orchestral and string driven.  We wanted to recreate the magic of travel in Europe that we experienced.  Plus we wanted our record to sound a bit more epic than our first EP.
Where can I get a copy of the album?
You can pick it up on iTunes, Indy CD and Vinyl, Luna music, CD baby, and at any of our shows.
Where can I get some Wolfy merchandise?
Right now we only sell merchandise at shows.  A online store is in the works.
I hear you guys have a Wolfy Moleskin.
That is true.  Josh's sister came up with the idea.  I actually wish I could have one but I am told its lame for a band member to buy his/her bands merchandise.
What are your thoughts on MySpace?
It's a great easy tool for a band to promote their music.  I like how simple it is to get a basic idea and feel for what a bands sound is.  However, it seems like MySpace is a bit, well, vacant these days (compared to years ago).  Still, it's a great tool.
Are you guys on Twitter?
Yes we are.  Matt signed us up.  I won't lie when I say I am still figuring out how to use it.
Describe your genre in one word.
Pop Rock (does that count as one – if not Pop will work).
You have shared the stage with some big names. Who is the most fun you have played with?
I think Company of Thieves would be at the top.  They have a brilliant live show.  So much fun.  I have enjoyed watching them.
What is the biggest crowd that you have ever played for?
Probably the opening slot for the Goo Goo Dolls.
The smallest?
2.  It was a show in Fort Wayne and it was during a blizzard.  Being from Wisconsin I was not going to let a little snow hamper our show.  Fans thought otherwise.
What is your favorite venue to play?
Radio Radio is our favorite club.  Great sound, great owner.  Top notch in my opinion.
Who are some of your biggest influences?
Classical music (J.S. Bach, Beethoven, Chopin), Most Motown music (Ottis Redding in particular), Radio Head, The Catherine Wheel, Kashmir (a band from Denmark that is brilliant).
Is Wolfymusic an actual label?
It functions like one it seems, so to a degree yes.  Its actually an LLC.
Where did you guys record your latest album?
At Gaither Studios and Penny Lane Productions.
Who writes all the lyrics?
Wolfy and Josh do.
Is there a ringleader in the band?
I don't think so.  Its more like the three musketeers without sabers.
I have seen you with and without strings. Which do you prefer?
Strings definitely!
Do you guys have any thoughts on a nation wide tour this year?
I don't think we will tour nationwide this year.  We are in the studio working on a new record actually.  Perhaps next year!
Do you guys have jobs outside of music?
Yes we do.
When did you know that you wanted to make a run out of this thing they call music?
At university.  I can't speak for Josh and Matt but I was inspired by a retired music exec who said I should give it a shot while I was younger.  Its been quite fun.
Tell me about all the other guys in the band.
Well, Josh plays bass and sings.  He really loves spreadsheets and is a whiz with the stock market.  Seriously, he is good. Matt plays drums and sings (when I twist his arm real hard).  Matt is the only sane one in the group and spends most of his time shaking his head at Josh and Wolfy.  Patient would be a good word to describe him.
Tell me about all your world travels.
Well, I studied in Ireland and Mexico.  Josh studied in London.  We have traveled to Europe many times (about once every other year).  Bordeaux, France, Parma, Italy, Venice, Italy would be at the top of my list of travels.
Where is your favorite place that you have been?
I think France would be my favorite.  Amazing food and wine plus the culture is, well, different.  I like the slower pace of life, truth be told.  Plus I love all the old cities.  I will have to wait another 300 years in the country for the same effect.
If you could only play one song for the rest of your career what song would you pick?
Wolfy song…Vienna Underground.
Where do you see yourselves in five years?
Hopefully at Madison Square Garden.  If not there then, tending a vineyard.
What do you want to be remembered for when this is all said and done?
Creating great art. Period.
I always let the artist get the last word. Go.
I believe everyone should at some point in their life pursue there dreams and passions.  Its hard but, wow, is it fun and life changing.