Since I learned how to scuba dive, I only want to visit islands. Last year I went to the Bahamas, and am already scheduled to dive in Cabo San Lucas this June, as well as La Paz, Mexico. I am hoping to schedule a week in either the Bahamas (a different island this time) or in Australia later this year. I just learned how to dive, but I might as well see the best of the best Down Under!
When we travel to places like this, we usually stay right by, sometimes on the water. When we were in Aruba two years ago we stayed across the street from the beach. We literally walked out of our hotel room, across the street, and were on the beach ready to get wet. Anyway, earlier this week I found an article on Yahoo! that featured 12 hotels with overwater bungalows. I won't write about them all, but here are some that I plan on staying in… sometime in my life!
Four Seasons Resort Bora Bora
Location: Bora Bora, French Polynesia
Website: http://www.fourseasons.com/borabora/
Nightly Room Rate: $850 +/-
Now this is what I'm talking about… have you seen these rooms? This place looks SICK! How relaxing would it be to stay in one of these? They are pretty private too, so those in the bungalow next to you wouldn't bother you. This is also a Four Seasons property, and every time I have stayed at a Four Seasons I have been blown away. The level of customer service just boggles my mind.
If I am spending that much money, I expect views like this.
Te Tiare Beach Resort, Huahine
Location: Huahine, French Polynesia
Website: http://www.tetiarebeachresort.com/
Nightly Room Rate: $750 +/-
It looks like I need to schedule a trip to French Polynesia. Several of these overwater hotels are located there. But hey, look at that water. This hotel is cheaper than the Four Seasons, but not by much. They look the same, too. The views change, and the staff would be different… but I would think that if you have stayed in one of these you have stayed in them all.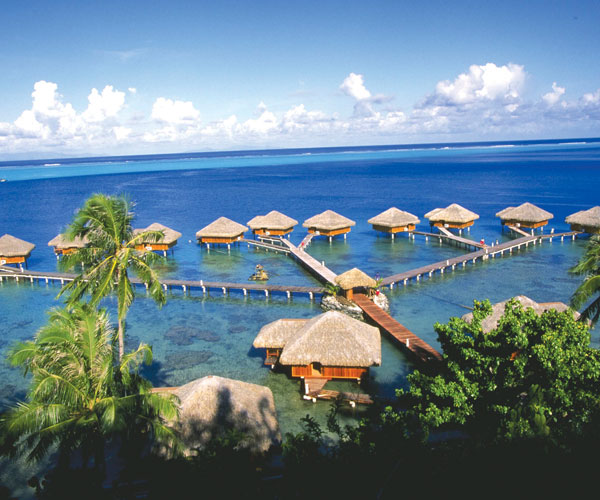 Le Meridien Bora Bora
Location: Bora Bora, French Polynesia
Website: http://www.starwoodhotels.com/lemeridien/property/
Nightly Room Rate: $700 +/-
That's it. I am going to French Polynesia, I don't care what it costs. Just look at these views. The water is crystal clear, the sand it ivory white… magical. I wonder who can afford to stay in hotels like this. I mean, if you went for a week you would be dropping like $8,000-$10,000 on the room. That doesn't include the flight, transpiration, and food and beverage. I would hope that if I am paying $700+ a night, the food and booze would be included!
Four Seasons Resort Mauritius at Anahita
Location: Beau Champ, Mauritius
Website: http://www.fourseasons.com/mauritius/
Nightly Room Rate: $715 +/-
I am not surprised to find another Four Seasons on the list. The last time I stayed at a Four Seasons, it was in Dallas. I got out of my car, having come straight from the airport, and the bellman knew my name. I don't want to know HOW he knew, I am just blown away that he did. All week, everything I wanted was handed to me. It was a memorable stay, that's for sure.
I have actually been in the process of planning a trip to Costa Rica next spring and I hope to stay at the Four Seasons down there as well. Oh, and most of these properties have a golf course. That is a big selling point for me!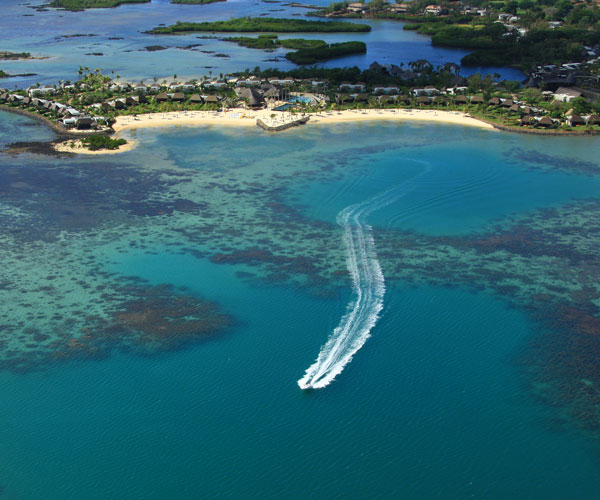 One&Only Reethi Rah
Location: Reethi Rah Island, Maldives
Website: http://reethirah.oneandonlyresorts.com/
Nightly Room Rate: $2,000 +/-
Now this is a place I can see myself in the next three to five years. They have amazing diving here, and I can't wait to get wet in the Maldives. I mean it's in the name after all! I wonder if Ron Watkins, a good friend and professional underwater photographer, has been there…
Oh, and that rate… let's talk about that rate. That is for the overwater bungalow. They do have other rooms. They have a Grand Water Villa that has a pool. Guess how much that is a night. $6,000! If you were to stay there a week, your room would be over $40,000 after taxes and fees. I know people that don't make that much money in a YEAR! Needless to say, when we go to the Maldives we won't be staying here.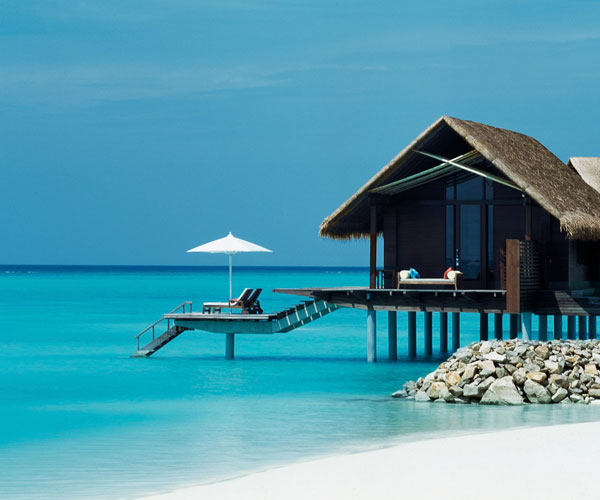 Looking at these pictures and researching these rooms just makes me want to go on vacation. I was just complaining today that I needed a vacation. I won't be going anywhere until June… but I try to leave a couple of weeks for the fall so I can be gone around the holidays. Regardless, this blog post helps me realize why I love the water so much. Let's get wet, people!
Source: http://travel.yahoo.com/ideas/12-hotels-with-overwater-bungalows.html