I haven't read the book yet, but I don't care. The guy that wrote it is a good friend. Well, I haven't seen him in forever… But we talk all the time on Twitter. We are good digital friends! Peter is a blogger, but I didn't realize he was an author, too. There is a big difference between bloggers and authors… I am a blogger. Maybe one day I will become an author. Peter is a blogger AND an author. He has released his first book titled The Before and After Then. Maybe, after helping him promote the book, he will send me a copy of the book to read. Heck, I might even review it. I am a blogger, after all.
To be honest, I don't even know what the book is about. But that makes this interview fun. I am more focused on him and what he has done over the years than I am the premise of the book. According to Goodreads, "Danny Goldstein has always lived in the shadow of his identical twin brother, Sam. But when a hurricane of events forces him into the spotlight, he starts to realize that the only thing he's truly afraid of is himself."
"With the help of his costume changing friend Cher, a famous uncle with a mysterious past of his own, two aging punk rocker parents and Rusty, the boy who will become his something to live for, Danny begins to realize that the music of the heart is truly the soundtrack for living."
It sounds interesting. That's for sure. Plus, knowing his writing style, I am sure that the book is good. I want to know more about Danny, Sam and the whole gang. But right now, I want to learn more about Peter. It is my absolute pleasure to introduce you to Peter Monn.
You have been blogging for as long as I have known you. But I didn't realize you were working on a book. When did you decide to write a book?
It's actually a really interesting question because I can't remember when I wasn't writing a book. Just last week, I was looking through boxes of stuff from when I was a kid and found books I had started when I was eight or nine. Writing a book and completing a book are two completely different things. The ideas have always been there, the difficulty was in finding the right story at the right time. Actually, my next two books are projects I've been working on for over ten years, specifically a book about teenagers who escape from a drug treatment program called Surrender to Technicolor, but the timing just wasn't right.
All authors have a process for writing. Some will write on legal pads while others will use a typewriter. With all of the technology available, what did you use to actually write the book?
I'm obsessed with notebooks. Last year I stocked up on all of these really cool spiral notebooks from Urban Outfitters that were like $1 each and I used those to outline my book. I'm constantly scribbling ideas on paper and I have tons of lists and ideas on my notes in my phone. When I finished the outline I got panicky because I could really see it unfolding and becoming real right in front of my eyes. I wrote the end first and then went back and started the book, but it didn't actually up much like the outline or the planned ending. Instead, the characters took on lives of their own and I found them doing things that were even a surprise to me.
The rest I wrote on my laptop.  I always thought it would be really cool to write a book on a vintage Smith Corona and I actually have one in the basement, but they're not very practical.
Tell me more about The Before Now and After Then. I love that title, by the way.
Thanks! That wasn't actually the first title but after working with my publisher she suggested I find something that was more mainstream to capture a larger audience. The original title was The Gay Boy Diaries, but even though the book is about a gay teenager, it's really about a teenager who happens to be gay.
The title of the book unfolds as part of the story so I don't want to give too much of that away. A few months ago I wrote a post on my personal blog called The Gay Boy Diaries that got a lot of attention. A good friend from high school suggested I write my experiences being gay, but modernize it and that was really the idea behind the book. It turned out to be so completely different. The book is really about a teenager who's twin brother dies and he is struggling to find out where he fits in the world, as he sees himself played off of other people, including his aging punk rocker parents, his eccentric rebellious best friend, his famous uncle and his first crush.
Bullying is a huge theme, but not just as a societal complaint but how teenagers actually react and deal with it. Music is also a huge character in the book, but I don't want to give too much away.
Danny Goldstein is the main character in the book. Is Danny Goldstein a real person or did you just make him up?
When it started, Danny was definitely me, but as it grew, even within just the first few pages, it was like I had given birth to someone I didn't even know. It was interesting to get to know him as I wrote it, if that makes sense. He surprised me by his actions and his responses. Being that he's been in my head for the last year, I feel like he's a very real person who sleeps on my couch, almost like a younger brother. But no, he's not based on a real person.
Rusty, the other main character, is most definitely based on a real person and actually someone I had a crush on in high school. There was this guy I liked but only talked to once, which is almost autobiographical at the beginning of the book. I was terrified to pursue it and one day he just moved away. I always wondered what would have happened. That's kind of the real story behind the book.
Did you interview identical twins to learn more about what it is like being an identical twin? Heck, you might be a twin as far as I know!
I'm not a twin. And I didn't interview any twins because I've been friends with so many twins throughout the years that I just used what they had told me and tried to apply it. I was worried that if I interviewed twins I would overshadow Danny's truth, which will make more sense once you read the book. Funny you should mention that though because when I was a little kid, I always wanted to be a twin. I can remember telling friends we should tell people that we were twins, even though we looked nothing alike. I guess good liars make for good storytellers.
I'm not really sure why I made Danny a twin. It wasn't premeditated. Truth be told, he wasn't going to be a twin. In the book, there is a book called Suburban Wasteland which is referenced a lot. It's about a group of kids who help each other get through high school. That was actually the original book idea, but I became really protective of Danny and I wanted to tell his story. He's a really amazing kid.
How many pages is the book?
The hard copy is roughly 310 pages.
How many times have you read the book since finishing it?
Since I originally finished it, I read it 6 times during edits. I haven't read the completed, final version yet. I'm waiting to read it in print.
Has writing a book helped with your blogging skills?
That question is more like which came first the chick or the egg. (Laughs.) I don't know if blogging has helped my writing a book or vice versa.  They are two completely different modes of writing. With my personal blog, I really just write the way I talk and think and I don't edit much of what I put out there. Interestingly, those posts get tons of views probably because people relate to me on a human level. Writing a book was different because I had a story to tell and I had to think ahead and be careful not to push the characters into directions they wanted to go. To some degree, I had to stay out of the story.
One interesting thing that has happened is that before, I always just wanted to write a book and get it published. Now, I've realized it's important to me to write with intention. I don't just want to write a book that gets published. I want to write a book that resonates with someone, maybe changing how they think about things or gives them hope. I want to stir some kind of emotion. I really got this while I was writing a scene between Danny and his father and I started crying. It was like four in the morning and my dogs are sleeping at my feet and I'm bawling my eyes out because in that moment, I could really feel the pain they were going through. For me, as a writer, it was powerful and that's the kind of stuff I want to write.
Who was the first person to read the book once it was finished?
Only two people, besides me, have read the book; a beta reader and my publisher. It's a little scary because I have literally no idea what people will think of it.
Tell me about working with Pen Name Publishing.
Working with Pen Name Publishing was absolutely horrible! No, I'm completely joking. Truly, it has been one of the most magical experiences in my entire life. Pen Name Publishing is a boutique publishing house and they are trying to carefully pick certain authors from certain genres. It all happened completely naturally. I've always hated those authors who said they got published on their first try, but that's really what happened to me. They were willing to take chance and everything just happened the way it was supposed to happen.
After I agreed to work with them, I was approached by a few literary agents and a few publishing houses due to some blogging I had done for The Huffington Post, but I decided to stay with Pen Name because they had been so completely supportive of me from the beginning and gave me complete creative freedom on the stories I wanted to tell. They've told me what I needed to hear not what I wanted to hear and really guided me well in ways I never would have imagined. One thing I never knew before publishing a book is that you develop extremely intimate relationships with your publisher and editor. At times, I literally had to free fall and trust the outcome and they've never let me down. The fact that they were willing to publish my next two books didn't hurt either, especially since the topics, although still young adult, are edgier and not as pretty.
What is raannt.com?
Raannt is the entertainment website I run with my husband Alex. It started off as a fun blog several years ago and then just unexpectedly exploded for us. Now we post daily style and music posts as well as several celebrity interviews a week. We've interviewed novelists like Ellen Hopkins and Jackie Collins to Charlaine Harris who wrote the True Blood/Sookie Stackhouse books. We've also interviewed tons of DJs, like Kaskade and Danny Avila.
We're really big into EDM so we focus most of our attention on people who are drawn to that culture. It's also allowed us to do some really cool stuff like go to music festivals, red carpet events and fashion weeks. We recently covered Ultra Music Festival and Winter Music Conference in Miami and it was absolutely amazing. We went to this private event for Armin van Buuren for like 100 people and saw a live show from literally two feet away. It was a dream come true.
Who are some of your favorite authors?
I always wanted to be a writer because I fell in love with books at a young age. My mom would take me to the library and let me take out as many books that I wanted, even though she knew I wouldn't finish them all. I'm still addicted to books and probably read two or three books a week. I love Stewart O'Nan. He's absolutely amazing and his books are all so different. The cartoonist Lynda Barry is truly magical and her work has inspired me for years. Of course, John Green is a master storyteller. I fell in love with David Levithan as soon as I read Boy Meets Boy and have read everything else he's ever written and it's all incredible. Typically if I find a writer I like, I read everything by them. Billie Letts and Brent Hartinger are like that for me and I'm waiting patiently for their next books.
I loved Michael Crichton and really appreciated his research. Probably the two best books I've read this year are The Beginning of Everything by Robyn Schneider and Love Letters to the Dead by Ava Dellaira. I also Jill McCorkle. Reading her books, specifically Ferris Beach, were probably the pivotal reason behind me wanting to be a storyteller, not just a writer. The list goes on and on.
How often do you write for The Huffington Post?
I just started earlier this year but I'm just guest blogging for them. I think I've written about five or six articles, so like once a month.
From start to finish, how long did it take you to write the book?
Three and a half weeks. After I had written the outline and the end, the rest just fell into place. Music really drives much of the book and it really drove my writing as well. Editing was a different story. That took months.
Who designed the book cover?
I worked closely with my publisher but ultimately she designed the cover. I didn't think I would care so much about the cover, but I became almost obsessive over trying to find something that sang the presence of the book, especially Danny's story. We went around and around for weeks and then one day she sent me the picture that we used for the final cover and we both fell in love with it immediately. We knew it was perfect.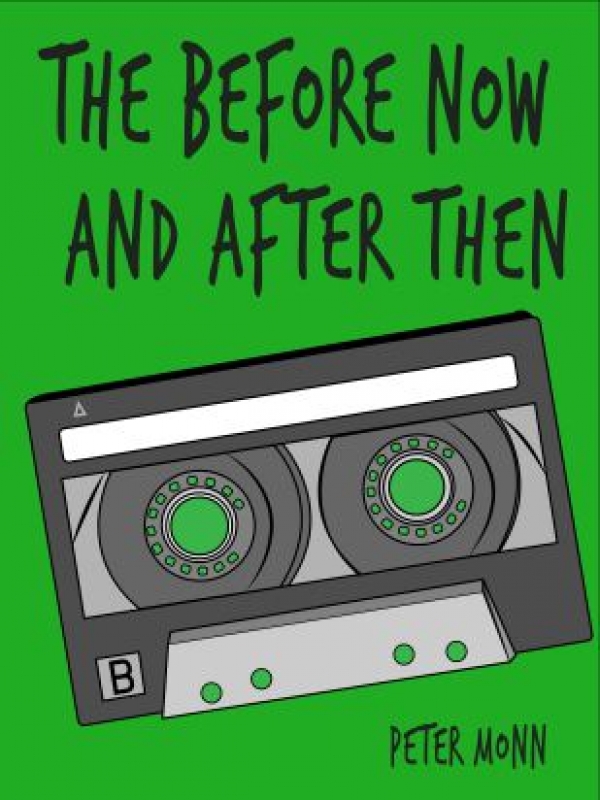 How are you using Twitter to promote the book?
Not as well as I should. I'm not big into social media marketing and I actually get turned off by people who have tons of marketing crap on their social media so it's really hard for me. I typically tweet stuff like, "I want nachos from Taco Bell," or "Did they seriously just kill her on The Walking Dead," so it's hard for me to market well. I'm horrible at marketing. Basically I've been begging people a lot to read my book. I'm not sure it's working very well.
What's next for Peter Monn?
My next book is called Suicide Birds and it's about a fifteen year old and her younger sister who discover their stripper mother dead from a heroin overdose. It takes place over 4th of July weekend and follows the main character as she "finds herself" while interacting with neighbors in their trailer park and a traveling carnival all while trying to keep her mother's death a secret because she's afraid of the outcome. I'm also working on a holiday novella to be released hopefully after Thanksgiving called The Snow Shack. It's a quirky love story about an unlikely couple. Besides that, I'll be working hard on our website, reading a bunch and hopefully finding some great new music.
In all of the interviews I do, I always give the artist the last word. Go.
Eat, Sleep, Rave, Repeat… Duh
Connect with Peter Monn:
Website: http://petermonn.com
Facebook: https://www.facebook.com/PeterMonnauthorfans
Twitter: https://twitter.com/petermonn
YouTube: http://www.youtube.com/user/Pemovision