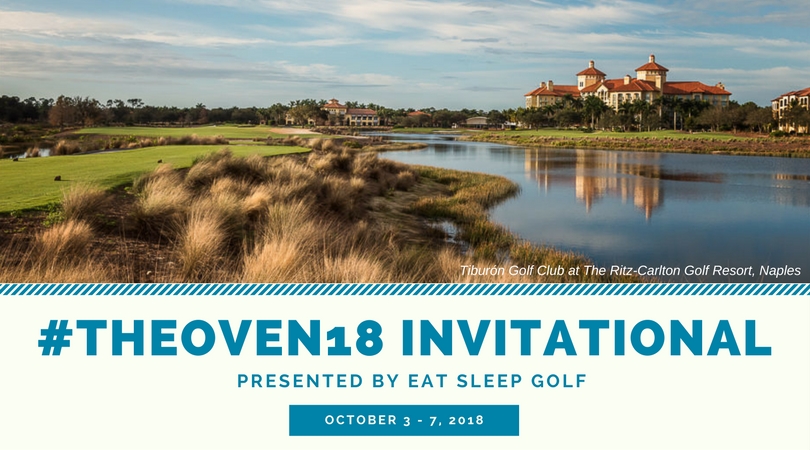 Featured Accommodations: The Ritz-Carlton Golf Resort, Naples
For those traveling from out of town, enjoy a preferred rate at The Ritz-Carlton Golf Resort, Naples. Located next to Tiburón Golf Club, The Ritz-Carlton Golf Resort, Naples offers country club sophistication and old-world charm in a casual, yet elegant setting.
To book your stay at The Ritz-Carlton, please contact Jessica Long at 239-514-6041 or email jessica.long@ritzcarlton.com. Simply mention #TheOven18 to receive a preferred rate of only $299 per night.
Wednesday, October 3
On Wednesday, October 3, 2018 attendees are invited to Tiburón Golf Club for a welcome dinner. We will be seated in The Rotunda inside the main clubhouse with views of the golf course while we enjoy a nice dinner. Scott Stevens from Eat Sleep Golf will speak on the current state of the company and Ricky Potts will speak on the changes to the event and what the future of the event looks like.
Once you have registered for the event, please select one of the following entree items:
*This dinner is for #TheOven18 attendees only. Proper attire required.
Thursday, October 4
Details coming soon…
Friday, October 5
Format: Scramble
Each player hits a drive on every hole and the best drive is selected. Each player then plays a second shot form the spot where selected drive lays and the best second shot is sleeted. The process is repeated until the hole is completed.
The award winning practice facility will be available to all participants prior to and following play each round during the tournament.
Saturday, October 6
Format: Alternate Shot
Each player hits a drive on every hole and one drive is selected. The player whose drive is NOT selected hits the second shot and they alternate shots until the ball is in the hole.
Sunday, October 7
Format: Better Ball
Each player plays through every hole using his or her own ball. The player whose score is lowest on each hole will be the team score for that hole.
*All sales are final. No refunds or exchanges.