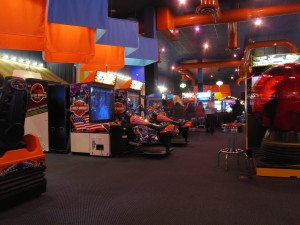 This year I wanted to stay in. Every year for as long as I can remember I have been out on New Year's Eve. But this year was different. I was staying in. This of course was not because I wanted to stay in, it was because all my other plans either were too expensive or they simply fell through when the time came down to it.
I had started the holiday season wanting to spend New Year's Eve in New York City. I was going to plop myself in Times Square and watch that ball drop with millions of people and viewers from all around the world. Then I remembered that it was not only freezing cold in New York City on New Year's Eve, but that I would have to get there early that morning to just to secure a spot. That was when I decided I could in fact be in New York, but also in Las Vegas at the same time.
So I started looking into hotel rooms in Las Vegas at the famous New York New York Hotel and Casino. Rooms were not only available, but they were cheap. I was looking at the middle of the road rooms and they were still below $100 a night. But then I started looking at plane tickets. This is when I decided that I was not going to be spending New Year's Eve in Las Vegas either. When plane tickets are all over $600 round trip from Indianapolis to Las Vegas, it was time to throw in the towel on that as well.
Next came the thought of staying in town but hitting up some of the big parties being thrown right here in town. The Music Mill was having a huge rock show. They were featuring three local bands and had a VIP section as well as midnight champagne toast. The bands included Stereo Deluxe, The Last Good Year, and the Virgin Millionaires. This seemed like a good time since I know all of these bands personally, but when I began the process of getting tickets and saw how the staff at the Music Mill treated me, I quickly changed my mind.
Then I looked at events being held at the Skyline Club, the Hyatt, and the Conrad all in downtown Indianapolis. Even Tru Nightclub in Broad Ripple was having a black dress, black tie event. I was even invited to an event in Washington, DC. But alas, none of these sparked my girlfriend's interest or mine enough for us to jump the gun and purchase tickets. That is when I saw the advertisement for the Mystery Café event being held at Dave and Buster's.
The Mystery Café is the nation's oldest mystery theater and is something I have always wanted to be a part of. Think of mystery theater as a place for you to get lost in a story while all along you are trying to figure out who did it. You have clues, puzzles, and you actually become a part of the play as the night goes on. You never truly know who the person is until the end but they keep you guessing from scene to scene.
When I heard that the Mystery Café was going to be at Dave and Buster's for New Year's Eve, I knew how we would be spending our night. So, the first thing I did was pick up the phone and call my good friend Brent Perkins. He works at Dave and Buster's in their event planning, so I knew he would have all of the details that I needed to make this night a reality.  He told me not only the price of tickets and concept of the actors, he also told me there would be hors d'oeuvres, dinner, and a champagne toast at the end of the night. For the $60 ticket price, it seemed like a no brainer that I would be attending this event.
Seats were limited, so I made sure to get my name on the list as soon as I could. I did in fact wait until the day of to confirm but we were lucky enough to get a seat. We headed out to Dave and Buster's a little early so we could make sure we got a few games in before the party started! But at 9:00 PM they began seating so we made our way into the room where this event would be taking place. It was being held in one of their private rooms so it would not involve the normal Dave and Buster's guests.
The story had three scenes and included participants from the audience. They asked me a few times, actually, to be a part of the play but I denied every time. She almost got me when she said that I had cute hair, but I did not want to embarrass any of the other actors with my insane acting skills! However, I do applaud all of the people who were in fact involved in the role-playing section of the event.
The concept of the story involved us being located in Has-Been, Colorado. The city of Has-Been is filled with all of these actors who are now, based on general assumption, has-beens. The names, of course, were changed to protect the innocent but you could tell who each of these characters were supposed to be. Then, all of a sudden, one of the main characters was murdered. The rest is up to you, the audience, and the actors, to help uncover clues and help you decide who the killer is! Of course, I did not know who the killer was but sure enough my date did!
As for the food that went along with the mystery theater, I could not have been more impressed. As some of you know, I have had some issues in the past with Dave and Buster's. The corporate headquarters did in fact solve these issues, for the time being anyway. The first time that I came back to the same location where I had all of my issues, I was again greeted with numerous issues that could have been avoided. I was served cold food, had mediocre service, and even had our table given away to another party before we were done. (At Dave and Buster's, for those of you who have not been there, the concept involves you leaving your stuff at the table and going to play video games in between courses and drinks.) All in all, it did not require a one off blog post, but it was only because of how our New Year's Eve was handled that I chose to not write about it.
The food started with a plate of Philadelphia cheese steak egg rolls, some marinara and spinach stuffed baguettes, and some absolutely incredible quesadillas. Then came the salad. It was small, but was served with a side of ranch and was enough to hold us over until the main course was served. One cool thing was that between courses there were scenes of the play going on. So, after we had eaten our appetizers, they would act, leading us into another course. It was quite clever how they got so much accomplished with the play in one night. And then came the main course. Here was a buffet style that included some crushed tilapia, fresh baked chicken, some cold pecan tossed noodles, and a few sides including carrots and mixed veggies. By the time I had eaten all of this food there was no way that I was going to be able to hold down the chocolate mousse that would later come to the table. Oh yeah, and the two Fat Tires that I drank since the start of the night.
The acting ended just before midnight. Then, two projector screens dropped from the ceiling to show the countdown as Dick Clark always does. Earlier in the evening we had been handed a mixture of party favors that included horns, party hats, and blowers that would make quite the annoying New Year's noise. When the clock hit zero 2009 was over, and a new decade began with Dave and Buster's going crazy. You could hear the champagne glasses clinking as people toasted a new year and kisses were shared by significant others all around the room.
I have had a few issues with Dave and Buster's. But I am happy to say that I have since seen them run an event that went off without a hitch. This New Year's Eve event with the Mystery Café was enough to bring me out of the red and back into the black as far as my issues with Dave and Buster's goes. And another thing that helped was a conversation I had with the general manager, Mr. James Pulley. Before the night was over I ended my evening by introducing myself and sharing in a few stories with James. He made me feel a lot better about the way he runs his restaurant. He also made some positive comments about my blog, which was the main reason that started all of this hostility with the organization. But James was extremely professional with me and even shared that the CEO of Dave and Buster's had read that original post. That, to me, means more than anything they did in hopes of resurrecting me as a customer.
In the end, with a great night of food, acting, and drinking with myself and sixty strangers, Dave and Buster's had put on one of the most incredible New Year's Eves that I can remember.  Sure, it was not spent with the ball in New York nor the slots in Las Vegas, but it was good, clean fun right here in my home town. So to the actors from the Mystery Café, to the wait staff at Dave and Buster's, to Brent Perkins and James Pulley also from D&B, thank you for making my New Year's a great one. Without you guys I might still be sitting on my couch!