Made Event is proud to announce DJ Mag Top 10 artist Dash Berlin at Governors Beach Club on Governors Island, New York City on Saturday, June 30, 2012.
Dash Berlin is the creator of the "Dash Berlin Sound" – an ambitious and unprecedented new sound of trance that is futuristic and scintillating, moving and emotive. It caught the ear of none other than Armin van Buuren in 2007, who featured Dash Berlin's debut track Till The Sky Falls Down on his legendary "Universal Religion" album. In 2009, Dash Berlin released his critically acclaimed debut album, "The New Daylight", which features instant classics such as Till The Sky Falls Down, Man On The Run, Waiting and Never Cry Again. And last month saw the release of his second artist album, "#musicislife", featuring Better Half of Me (featuring Jonathan Mendelsohn), which earned a 2012 International Dance Music Award nomination for "Best Trance Trac". From the hottest nightclubs to the biggest festivals, this "Flying Dutchman" connects with his audiences in a magical way that has spawned a worldwide following and earned him the #8 spot in the DJ Mag Top 100 poll. Now he comes to Governors Island to keep revelers dancing all day in the summer sun. After all, the message of Dash Berlin is simple… "It's all about having a good time again," he says. "The art of celebrating life resonates inside of everyone."
The event will take place at Governors Beach Club, which  encompasses a 4-story tent with open walls, an open air beach, VIP areas, a state of the art sound and light system, over 100 feet of bar space, and spectacular views of New York City.
Tickets are available at www.madeevent.com. Round-trip ferry transport included.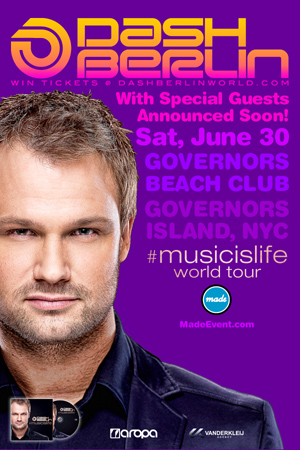 Click here to "like" Dash Berlin on Facebook.
Click here to follow Dash Berlin on Twitter.