It has been a long time since I have listened to this style of music. All I listen to is electronic dance music. Styles vary, from house and techno to dubstep and jungle, but nearly all I listen to is EDM. I might throw in the occasional country tune, but mostly dance. So when I got a message from my good friend Ryan Ahlwardt, I was surprised to learn that he had a new album out. Before he could ask I was begging for an interview and a chance to listen to the new release.
I met Ryan many moons ago, and actually tried to help promote him as a singer/songwriter. He eventually joined Straight No Chaser, an a cappella group from Bloomington, Indiana. Since leaving Straight No Chaser, he has released a new album. The album is titled You Are With Me and is filled with passion that I haven't heard from Ryan.
This isn't singer/songwriter stuff… It's better than that. This is a spiritual journey through lyrics that were inspired by what sounds and feels like real life events. Just listen to "In A Whisper" and tell me that song doesn't have a deeper meaning. Ryan has a way with words, and has a true talent for telling his story in song.
If this is your first time listening to his work, I encourage you to go back and listen to his earlier work. Listen to songs like "Indiana Summertime" and "Saturday Night Live Girl." His voice has evolved over the years, and if you put them side-by-side, you might not know it was the same artist. That alone gets me excited for what's next for him.
His new sound is more mature and polished and has a certain edge to it. The music reminds me of early Kem and the vocals, while I try to compare him to someone, are so unique to Ryan I just can't put my finger on someone he sounds like. That's not a bad thing. Actually, I challenge you to find someone that sounds like him.
I'm not sure if Ryan will be touring with this new album, but he's fun live. He brings that same energy to the stage and is one of the most genuine people I have ever met. He made an impact on my life, that's for sure.
His new album is on Spotify and I've already listened to it twice! Out of these 8 tracks, my favorite has to be "Love That Don't Run Out." The complete track list is below:
Alone
Love That Don't Run Out
Lead Me, Lord
Wait
You Are With Me
You've Never Been Alone
In A Whisper
You've Never Been Alone (Reprise) [feat. Mark Kibble and Alvin Chea]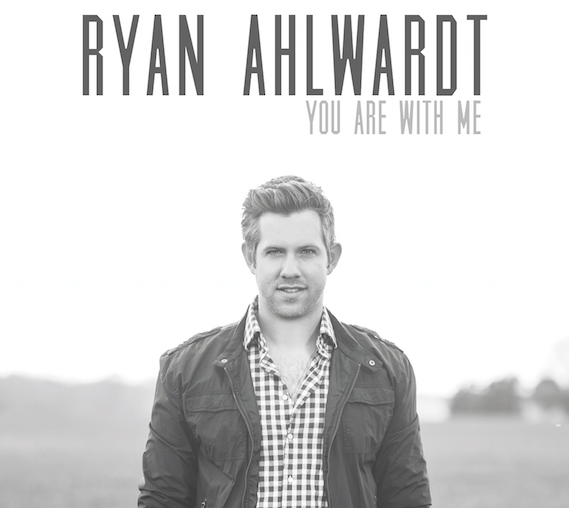 I was going to listen to the album either way, but I told Ryan I also wanted an interview. So much has changed since I last saw him; it was great to catch up. I can't wait to hear more about this album and what he has been up to. I've interviewed Ryan before, but that was a long time ago. Ladies and gentlemen, it is my absolute pleasure to welcome back the one… The only… Ryan Ahlwardt.
It has been a long time, Ryan. Besides this new album, what else have you been up to?
It has been awhile, Ricky! Last time we connected, I was touring and recording with Straight No Chaser on Atlantic Records. That was such a memorable chapter of my life and I'm so grateful for the once-in-a-lifetime experience. I left the group in December 2012 to come home, start a family, and pursue an opportunity to serve on staff in my hometown with Young Life, a ministry for high school students that Lauren (my wife) and I used to volunteer with before I joined Straight No Chaser.  We welcomed our new daughter Olivia to the family in August, too, which has been a blessing to say the least.
Tell me about your experience with Straight No Chaser.
Where to start? I never thought when I auditioned for the group as a high school senior headed to IU that Straight No Chaser would impact my life so much. I made lifelong friendships with my brothers in the group and even met my wife through the experience (Lauren sang for the women's a cappella group at IU, Ladies First).  Straight No Chaser taught me everything I know about music theory, vocal arranging, performing onstage, recording in the studio, etc. The viral "12 Days of Christmas" YouTube clip (which I wasn't even in, for the record!) and the Atlantic Records chapter that followed was exhilarating to say the least.
Straight No Chaser – 12 Days of Christmas
So many dreams came true for all of us: doing what we loved to do for a living, touring overseas, singing in the Macy's Thanksgiving Day Parade, meeting all the artists and entertainers we got to work with… I have some tour journals you should look through – one paragraph won't suffice to answer this question!
Mike Luginbill was also in Straight No Chaser. How is he? I haven't talked to him in years.
Mike is doing great! He got married earlier this year and will be calling Nashville home soon. I'm really happy for him. He's still in Straight No Chaser and has really grown in his writing and arranging for the group. In my opinion, Mike truly began to flourish behind-the-scenes during summer 2012 when we were recording our Under the Influence album in LA.  He was running a session of a song he arranged in one room while the rest of us were tracking another arrangement he'd brought to the group in another room. All these creative ideas were coming from him at once and the rest of us were trying to keep up!
Mike will continue to do great things onstage with Straight No Chaser and in Nashville when he's off the road. I'm excited for him to get down there and get some studio work. Mike sang on several songs on my new album recently and it was a joy to work together on another project.
This new album is some of your best work yet. What was your inspiration for this new album?
Thanks! The inspiration for many of the songs on the album goes back to a pretty life-changing experience for me that happened on board a cruise ship, believe it or not, on October 14, 2012. We (Straight No Chaser) were out with our fans for a cruise before our fall/winter tour to introduce some new songs and let loose a bit before the busy-season began for us all. I'd been feeling a tug to get back home since earlier that year, but I was terrified not knowing what I'd do professionally besides being in Straight No Chaser. After we recorded "Under the Influence" and prior to the cruise, I'd learned about the opportunity with Young Life back home and knew that's where I needed to be for a number of reasons. It really was a spiritual calling and a leap of faith, but God knew what He was doing.
I was alone in my cabin on the ship, anxious knowing that I was about to tell my best friends that I was going to be leaving the group to pursue ministry back home. I was praying about it, trying to find the right words to say later that night, and this overwhelming sense of peace came over me and I sensed four simple words come to me:  "I AM WITH YOU."  After our final show on the cruise, I told the guys backstage and could've sworn there was a bigger presence in the room with me as I shared the news. Since I made the jump into ministry back home, there have been so many reaffirming moments with the young people I'm working with in Young Life that it was the right decision to make.
I knew I wanted to record another project (I love being in the studio!) and set out to make a worship album. My friend and producer Matt Mellinger did an amazing job shepherding the project along and co-wrote several of the songs on the album with me.
Where did you record this release?
The pre-production and much of the writing occurred at Matt's home studio in Indy. The songs started coming to us in early December last year. We took the songs down to Quad Studios in Nashville for a couple days in February and finished up all the mixing, mastering, and overdubs back at his place this spring. Matt did an excellent job and I hope we get to work together again soon!
There are some female vocals in there on a few tracks. Who is that?
Lauren sings on "Alone," "You Are With Me," and "In A Whisper." I love getting to work with her at home and in the studio on songs. She's the best filter when I'm tossing ideas around musically and I'm glad she's on the album. For the next project, I really want to write some songs with her for her to sing lead on. Her voice has always been great, but she brought a special performance to the table for this album.
What is your favorite song on the album?
Most days, it's either "You Are With Me" or the a cappella reprise of "You've Never Been Alone" with two of the guys from Take 6 (Mark Kibble and Alvin Chea), who sing some awe-inspiring notes on that track. It's tough, though… "Wait" is a fun one, too; Mike sounds incredibly good and the band is so, so, tight on that track.
Are you going to tour to promote the new album?
Right now, there aren't plans in place to hit the road to tour and promote the album. Becoming a new parent will refocus your priorities – whether you want it to happen or not! – and I'm happier and healthier being a homebody right now. "You Are With Me" was released on August 19 and our daughter literally arrived the next day, so obviously the marketing push has taken a proper backseat to her!
I do miss performing time to time and recently have been preferring to play for smaller, more intimate audiences. Singing for thousands of people (like I got to do in Straight No Chaser) comes with its own joys and challenges; singing for 50 makes for a completely unique experience. Both experiences, though, affect each other and build up the other's required skill set. The beauty of technology and online promotion through social media has helped to promote the album.
The Straight No Chaser and Young Life communities have really embraced the album and it's humbling to know how many people have already been positively impacted by the message in the songs in such a short time since its release.
I love the cover. Where did you take that picture?
Thank you! I'm so happy with how the photography and artwork came out for the album. Matt's wife Megan, who is wonderfully talented in her own right, did a fantastic job. The three of us hopped in the Mellinger minivan and drove out into the country to scope out the best place for the shoot. After a couple places that Megan had in mind didn't pan out, we stumbled upon the most quintessential, Hoosier-y spot out in a field north of Noblesville, Indiana. The sun was setting, a farmer was driving his tractor in the adjacent field, the birds were singing, the crickets were chirping… It was like something right out of a John Mellencamp tune (or maybe Hoagy Carmichael, minus the tractor).
"Windows Down" might still be my favorite song you've ever written. Do you still perform that song live? Since writing that song, have you been able to visit Texas?
I do still sing it, actually, although in a different key that fits my voice a bit better now that I'm old and have some salt in my pepper…  I'm glad you enjoy that tune! The only place that I mention in the song that I have yet to visit is Hawaii. I'd love to check out more of Montana, too. Sometimes I feel like I'm lying a bit singing those lyrics now that I've been able to most of the places I reference in the lyrics – ha!
The new album is on Spotify. What is the process like for musicians that want their music online?
I direct my friends who are releasing projects independently to CD Baby and Disc Makers out in Portland, Oregon and New Jersey, respectively. I've been a client of theirs since my first CD back in 2006 and they do excellent work. They have helpful project managers who do the legwork to get my music out to a bunch of digital distributors (the big ones like iTunes, Spotify, etc. and the smaller, niche ones alike).
CD Baby's inventory system automatically sends me an email when they need replenished stock of my physical CDs, which is great, too. I highly recommend getting in touch with both those companies to anyone considering releasing an album on their own. I'd be happy to answer any questions about my experience with them that someone out there may have, too.
So much has changed since MySpace. Myspace is coming back, though. What are you doing to promote your music online?
I read a book a couple years ago called "The Future of Music" by David Kusek and so much of what he predicted about the changing music industry has come true, even in such a short span of time since he wrote it.
I'm performing a live, interactive concert online through a new service called Stageit that allows artists to perform for their fans in the comfort of their own home. I'll be playing songs off the new album and some older tunes, as well. There's a select amount of tickets remaining for the Sept. 27 show, so people can click here (insert link) to check it out.
I'm deliberating the genre direction of the next project… My mind goes from another worship EP with more song ideas that are naturally trickling about since "You Are With Me" to a new spin on the 50s soul and doo-wop vibe, then to an acoustic Christmas album idea… I looked into starting a fan-based fundraising campaign with PledgeMusic for "You Are With Me," but arrived too late in the game, so to speak. They do some really cool work getting unique, exclusive experiences and merchandise to fans.
Right now, I'm promoting "You Are With Me" through social media, as well as my website, which Megan Mellinger designed. Twitter's my go-to and favorite out of all of the platforms out there to promote the new album – and maybe #livetweet lamaze class.
You worked with Mark Kibble and Alvin Chea on "You've Never Been Alone (Reprise)." What makes that song a reprise and how do you know those guys?
I got the amazing opportunity to work with Mark when he produced "Under the Influence" with Straight No Chaser back in July/August of 2012. We've remained close since then and I approached him to see if he'd be interested in singing on "You Are With Me." Mark is not only a beast of a musician, singer, writer, producer and arranger, but he's a strong Christian believer and prominent member of the gospel music world, as well, from his years of work with Take 6.
The reprise of "You've Never Been Alone" actually was never initially intended to be a reprise.  Matt and I thought it would be cool to see if Mark could lay down some background vocals on the full-band version of the tune. After some time waiting to hear the track and with the deadline for the album approaching, Matt and I were nervous that our window of opportunity to get Mark on the tune was closing on us. (It turned out that Mark hadn't gotten back to us because he and Take 6 were being inducted into the GMA Hall of Fame – a decent excuse, I think, don't you?)
Somewhere along the way, lines of communication got crossed (and I'm glad they did!) and Mark had sent us a brand new, stripped-down, a cappella arrangement of the song with him singing all the top parts and Take 6's amazing bass singer Alvin Chea filling out the basement. Mark had even added a key change at the end of the tune, which never existed in the original version of the tune! Matt and I listened to the ridiculously intricate performance they laid down and decided that we couldn't let the tune sit on a hard drive somewhere. We HAD to let people hear it, but we had no idea how to incorporate it on the album that had 7 tracks on it performed by a full band. Matt and Mark both recommended that I re-track the lead for the reprise to match the gospel-y, soulful approach of the a cappella version, which I did at Matt's studio as the last bit of work of tracking for the album before sending it off to get pressed.
Side note: Mike (Luginbill) and I went to see Take 6 at Clowes Hall on the campus of Butler University the night before we drove down to Bloomington to audition for Straight No Chaser as seniors in high school all the way back in 1999. That concert certainly inspired us and very well may have helped us perform better in our audition for Straight No Chaser way back then. Flash forward to 2012 when we got to work with Mark for Straight No Chaser's "Under the Influence" sessions and now to 2014 when all 3 of us are singing on "You Are With Me." Talk about full-circle!
What next for Ryan Ahlwardt?
Man, that's such a great question. I have so many goals and dreams for my family, my career in ministry, my aspirations as a musician and writer… It's a challenge to pick just one that excites me the most. Throughout my journey, God has been so, so good to me and Lauren and our families and I've come to realize that so much is ultimately out of my control and so much in His. What I can control, however, I want to use to serve and love the world around me well, whether that's through ministry, music, being a husband, father and friend… My prayer for this new album specifically has been that it will change lives for the better through its message of hope that comes from knowing Jesus. I love to write, too, and have some ideas for my first book being fleshed out. I'd love to arrange and sing with other artists in the studio, too. I'll keep you posted moving forward much better than I have since the last time we connected, though, I promise you that!
As always, in all of the interviews I do I always give the artist the last word. Go.
You were one of the enthusiastic few in the very beginning of my career setting out as an independent musician and I'm grateful for your support to this day, Ricky.  God bless you, my friend! Thanks for checking out You Are With Me, everyone. I hope you enjoy what you hear.
Connect with Ryan Ahlwardt:
Website: http://www.ryansongs.com
Facebook: https://www.facebook.com/ryansongs
Twitter: https://twitter.com/ryansongs
YouTube: https://www.youtube.com/ryanahlwardt