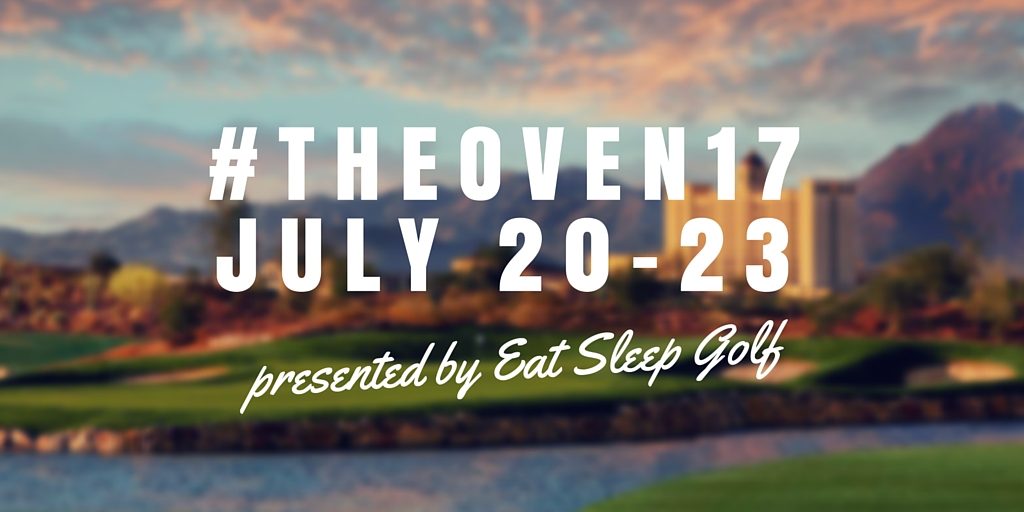 Remember, it's a dry heat.
#TheOven17 is presented by
Eat Sleep Golf
. Commemorative #TheOven17 hats provided by:
Thursday, July 20th, 2017 at 7:00 p.m.
#TheOven15 and #TheOven16 champion Toby Baldwin will host the annual Champions Dinner at BOOTLEGGERS Modern American Smokehouse in Scottsdale, Arizona on Thursday, July 20 at seven o'clock. Keith Thompson, Matt Rust and Mike McGreevy are cordially invited to attend.
Friday, July 21st, 2017 at 7:00 p.m.
All #TheOven17 participants and guests are invited to the annual pairings party at Borderlands Brewing Company. Things will kick off at 7 and the first name for the first round will be drawn at 7:30 p.m. Come thirsty, because Borderlands makes some delicious beers brewed in traditional Southwestern style.
You can click here to learn more about their beers. I look forward to welcoming everyone to Tucson, Arizona in Friday, July 21st!
Please drink responsibly.
Saturday, July 22nd, 2017
Round 1 of #TheOven17 takes us to La Paloma Country Club, a private Jack Nicklaus signature design proudly managed by Troon Privé. La Paloma is nestled into the base of the Santa Catalina Mountains.
We will play 18 holes at La Paloma followed by lunch. Lunch is included in your registration, so come hungry, leave happy! In addition, every golfer will receive 2 drink tickets to be used on the golf course. Just see your favorite beverage cart attendant for a selection of drinks. Cheers!
After golf we will meet back at Casino Del Sol for some rest and relaxation before heading to Sewailo Golf Club for a Pin High Vodka tasting and a FootGolf aka Wooki Golf competition. We will meet on the first tee at 7:00 p.m. for 6 holes of Wooki Golf. The beverage cart will be there with drinks available for purchase, so stock up. The Wooki Golf course measures 1,593 yards and offers a wide variety of holes for us to experience. Did I forget to mention there will be prizes for the lowest score? Oh, and don't worry… Since we are playing at night, I will make sure Sewailo Golf Club turns the lights on for us. The Wooki Golf course is lit!
This promises to be a great first day. #TheOven17
Sunday, July 23rd, 2017
On Sunday, we will play Sewailo Golf Club. There will be a 9:00 a.m. shotgun, but we will all pose for a photo before we tee off. 4 lucky participants will get the chance to #SurfTheEarth on a GolfBoard during this round. More on that as we get closer to the event, but I've had the chance to ride one, and they are a hoot! We will play 18 holes and then head to the Tequila Factory inside Casino Del Sol. The tacos and salad buffet, including soft drinks and chips and salas are included in your entry fee. So come hungry, eat a ton, and leave happy!
Don't forget you will also have 2 drink tickets on the golf course, so please stay hydrated while out there. After lunch we will meet at Prema near the main entrance of Casino Del Sol for awards. Grab a seat, a drink and relax as we pass out all of the prizes and I announce the location of #TheOven18. I can't wait to see you all in Tucson!
#TheOven16 Photo Gallery
These images are compliments of Sheryl Hugill.
Registration for #TheOven17 presented by Eat Sleep Golf has closed. See you next year!
*You assume the responsibility for your purchase, and no refunds will be issued.
Leaderboard
| Position | Name | Score |
| --- | --- | --- |
| 1 | Jeremy Murphy | 134 |
| 2 | Toby Bladwin | 140 |
| T3 | Alec Costello | 141 |
| | Thomas Wett | 141 |
| T5 | Sheldon Heckman | 142 |
| | Matt Rust | 142 |
| 7 | Frank Hoxsey | 143 |
| T8 | David Murphy | 144 |
| | Peter VanZandt | 144 |
| T10 | Jonathan Carr | 145 |
| | Josh Rivera | 145 |
| | Scott Stevens | 145 |
| 13 | Ricky Potts | 146 |
| T14 | Scott Adolphson | 148 |
| | Tyler Buell | 148 |
| | Clive Hamilton | 148 |
| 17 | Charles Warner | 151 |
| 18 | Kris McEwen | 156 |
| 19 | Gary Carr | 157 |
| | Jeff Hackett | 157 |
| | Scotty McEwen | 157 |
| | Quinton Stingley | 157 |
| T23 | Brett Fisher | 159 |
| | Kevin Viser | 159 |
| 25 | David Keene | 160 |
| 26 | Keith Pillow | 162 |
| T27 | Thomas Johanson | 164 |
| | Mark McEwen | 164 |
| | Scott McEwen | 164 |
| 30 | Jim Fleck | 166 |
| 31 | Tara Burns | 174 |
| | | |
| | Kerry Shafer | |
| | Richard Slay | |
| | Keith Thompson | |
| | Kyle Thompson | |